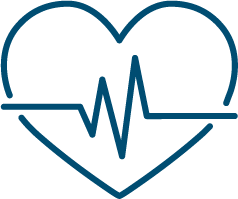 Why Should I Bring my Pet to Willows?
Willows is one of Europe's leading small animal referral centres. Our state-of-the-art hospital is led by internationally renowned Certified Specialists committed to providing the highest standards of veterinary care. Our team of Specialist Cardiologist are supported by our multi-disciplinary team of Specialists across a number of disciplines including; Anaesthesia, Diagnostic Imaging and Emergency and Critical Care. In addition, Willows has a large dedicated team of Nurses and clinical support staff available 24 hours a day, every day of the year to provide the best possible care for your pet.

What Parameters need to be Monitored?
This information sheet provides key aspects of monitoring your pet with heart failure at home and explains the parameters to record. Heart failure parameters need to be monitored frequently (daily) in the first few weeks after the initial diagnosis and beginning of medications, or at any time when things are unstable i.e. a relapse or progression in symptoms. Once your pet becomes stable the frequency of recording can be reduced to a weekly basis. You will be provided with a booklet for recording all of the parameters, alternatively you can use a diary or computer database to keep a record. Remember to always bring your record book with you to every visit, both with your cardiologist and your primary Vet.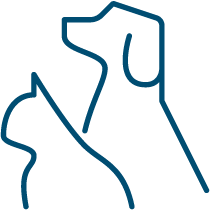 Sleeping Respiratory Rate (SRR)
SRR should be recorded when your pet has had a period of rest and is asleep. It is best to record this when your pet falls asleep when you are in the room, to avoid waking them up when you enter the room. Breathing is often best seen when your pet is lying on their side and the chest and flank can be seen to rise and fall. A breath in and then out is recorded as one breath. The rate is given as the number of breaths in 1 minute.

HR is more difficult to record, however it is possible to do and it provides very useful information. The heart rate when your pet is visiting as Vet is always somewhat elevated due to excitement or nervousness, and so does not represent the real heart rate that would be measured at home. The heartbeat can be felt by placing your hand on the chest over the heart, just inside the 'armpits' on the left side, but can be either side of the chest. You could purchase a cheap stethoscope and learn to listen to the heart rate. Feeling the pulse in the leg does not always represent the heart rate, as some abnormal or weak heartbeats might not produce a palpable pulse, so this is not the preferred method of measurement. It is also possible to purchase a heart rate monitor. Whilst these are a little more expensive, over the course of your pet's life, often represent good value for money. The rate is given as the number of heartbeats in 1 minute.
One of the effects of heart failure is the accumulation of excess fluid in the lungs (oedema), chest cavity (pleural fluid) or abdomen (ascites). One litre of fluid is equivalent to 1kg in weight. As such monitoring your pet's body weight is a useful means to track the loss or gain in fluid accumulation.
It is recommend that you weigh your pet weekly, it is often best to use the scales at your own vets for consistency and accuracy.
To save this page as a PDF, click the button and make sure "Save as PDF" is selected.
To assist owners in understanding more about the conditions related to and treatments available for patients with heart and lung problems, we have put together a range of information sheets to talk you through the some of the more common cardiology conditions seen by our Specialists.