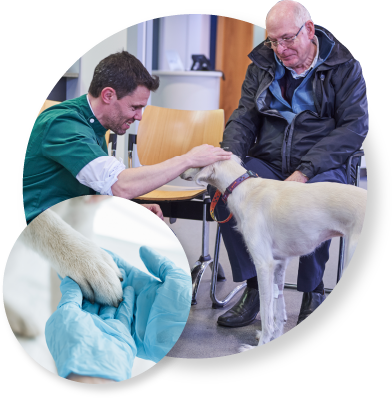 Compassionate and high quality care
Willows is one of the world's leading Specialist-led small animal referral centres, delivering Specialist pet healthcare for over 30 years. Our state-of-the-art hospital located in Solihull is led by internationally renowned Specialists committed to providing the very highest standards of veterinary care. We aim to provide each of our patients with the same level of care that we would wish for our pets.
Our Specialist Veterinary Surgeons work together to provide the best possible care for our patients across 14 referral services, just as you would find in a human hospital. This unique approach means that we can ensure that our patients receive a 360-degree approach to their care when it is needed most.
To support our patients, clients and referring vets achieving the best possible diagnosis and treatment plan we now offer a range of fixed price packages for routine procedures and conditions – ensuring peace of mind when you need it most.

Internationally renowned Specialists committed to the very highest levels of Veterinary care

General Practice Care, for all your pet's healthcare needs

Specialist Veterinary care for dogs and cats referred to us by Veterinary Surgeons across the UK

World-leading, state-of-the-art facilities and equipment

Gold level Cat Friendly Clinic

24 hour / 365 on-site emergency care

Our friendly, passionate and exceptionally skilled team are dedicated to looking after your pet as if they were their own

A commitment to excellence in all that we do
Learn more about your pet's specific condition, treatment or procedure with our easy to use Pet Health Information Sheets.
Willows is here 24 hours a day every day of the year (including Christmas and New Year) providing care, treatment and support for you and your pet.
Veterinary Consultations from the comfort of your own home
Through our commitment to the excellent care of cats and their owners, Willows has been accredited by International Cat Care (iCatCare) as a Cat Friendly Clinic at the Gold Level.
Take a look behind the scenes at Willows Veterinary Centre and Referral Service.