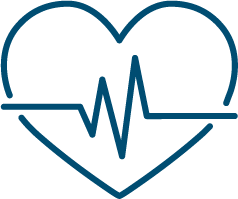 Soft Tissue Surgery: Extraordinary Vets for Extraordinary Pets
Home to one of the UK's largest team of Soft Tissue Surgery Specialists – complex is our every day when providing treatment for over 800 new patients a year.
Harnessing our multidisciplinary Specialist team with exceptional capability and experience, Willows is uniquely positioned to diagnose and treat patients with complex soft tissue problems, achieving the best possible clinical outcomes for patients with a wide range of surgical conditions including; liver shunts, Brachycephalic Obstructive Airway Syndrome (BOAS), laryngeal paralysis, and both thoracic and abdominal pathology.
As experts in minimally invasive surgical techniques, our Specialist team perform procedures such as coil embolization of liver shunts and keyhole surgery offering patients improved recovery times and shorter stays in hospital.
With direct access to our Specialist, Emergency and Critical Care service patients are supported by our dedicated team of Nurses and clinical support staff 24 hours a day, every day of the year providing the best possible care for your pet.

What can I Expect if my Pet is Referred to a Soft Tissue Specialist?
Each visit will start with a detailed consultation, careful examination of the patient and an in-depth discussion about the findings and the plans for further investigation and treatment. Willows has access to state-of-the art diagnostic imaging facilities including digital radiography, CT scanning and MRI scanning.

What are the Most Common Conditions seen by the Soft Tissue Surgery Service?
The Soft Tissue Surgery team deals with a very wide range of conditions in both dogs and cats, mainly concerning the head and neck, respiratory tract (airway), chest and abdomen. Surgical management of cancer is also commonly performed.
Common conditions include:
Ear nose and throat : Total ear canal ablation (TECA) and bulla osteotomy, brachycephalic airway syndrome (BOAS), laryngeal paralysis and tracheal collapse
Urogenital: Congenital and acquired urinary incontinence, prostatic disease and cryptorchidism
Oncological: Both hard and soft tissue tumours (cancers) including mast cell tumour, soft tissue sarcomas and oral tumours
Gastrointestinal: Oesophageal foreign body removal, subtotal colectomy, colorectal surgery
Wound management and reconstruction: Local/distant skin flaps and free skin grafting
Vascular: Portosystemic shunts (abnormal blood vessels by-passing the liver)
Cardiothoracic: Congenital cardiac defects, pericardiectomy, lung lobectomy, thymectomy,
pyothorax and chylothorax
Endocrine surgery: Thyroidectomy and adrenalectomy
Hernia/rupture surgery: Perineal hernia, diaphragmatic rupture and pericardioperitoneal diaphragmatic hernia
Many soft tissue surgical patients require intensive nursing and support from our Internal Medicine, Anaesthesia and Emergency and Critical Care teams. At Willows we provide a multi-disciplinary approach to the care of all patients, our Soft Tissue Specialists work closely with our dedicated Nursing team and Specialists across all disciplines, enabling us to optimise the care and outcome for each patient.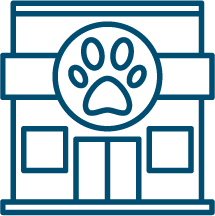 What Facilities are Available at Willows?
Our operating theatres are equipped and managed to the highest of standards, enabling our Surgeons to provide the best chance of a good outcome for their patients. Willows has the most advanced surgical instrumentation, enabling our Specialists to perform all procedures necessary, including minimally-invasive surgery (keyhole surgery). Our Specialists are supported by a highly trained and caring team of Veterinary Nurses who play a critical role in rehabilitating patients following surgery.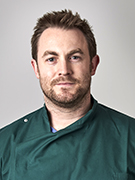 Will Robinson
BVetMed MSc BSAVA PGCertSAS DipECVS MRCVS
Head of Soft Tissue Surgery
European Specialist in Small Animal Surgery
RCVS Specialist in Small Animal Surgery
Will graduated from the Royal Veterinary College in 2010 and since then has worked in multiple small animal hospitals across the UK. He undertook a rotating internship at the Willows in 2012 before going to Bristol Veterinary School to complete his three year residency in small animal surgery and a clinical masters degree (MSc). During this time he also completed his BSAVA post graduate certificate in surgery. Will successfully passed the European diploma exam to become a European Specialist in Small Animal Surgery in 2020. Will's research interests include minimally invasive surgical techniques and he is interested in all aspects of surgery and particularly enjoys fracture management and thoracic emergency surgery.
In his spare time Will enjoys exploring the countryside with his family and two crazy Cocker Spaniels, Olive and Rocket.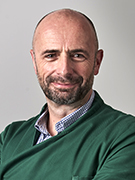 Dr Stephen Baines
MA VetMB PhD CertVR CertSAS DipECVS DipClinOnc MRCVS
Head of Oncology
RCVS Specialist in Small Animal Surgery
European Specialist in Small Animal Surgery
RCVS Specialist in Veterinary Oncology
Stephen qualified from Cambridge University. He held an internship position at North Carolina State University and then spent a year in general practice before taking up a Residency in Small Animal Surgery at the University of Liverpool, where he gained the RCVS Certificates in Veterinary Radiology and Small Animal Surgery. This was followed by a PhD in Canine Tumour Biology at the University of Cambridge followed by a period as Lecturer in Small Animal Soft Tissue Surgery. Stephen then moved to the Royal Veterinary College, as Lecturer and then Senior Lecturer in Small Animal Surgery and Head of Surgery. He also completed a Master of Science degree in Comparative Clinical Oncology at the University of Birmingham.
Stephen is currently Head of Oncology at Willows. He is a Diplomate of the European College of Veterinary Surgeons and is an RCVS Specialist in both Small Animal Surgery and Veterinary Oncology. He is the only active Specialist Surgeon in the country to hold Specialist Status in these two disciplines. Stephen represents the referral clinicians in the Linnaeus group on the Clinical Board.
Stephen is a committee member of the European College of Veterinary Surgeons, the Veterinary Society for Surgical Oncology, and the Association of Veterinary Soft Tissue Surgeons, and has also been Chairman of Examiners for the RCVS Certificate in Small Animal Surgery and a member of the BSAVA Scientific Committee. Stephen is also a member of the editorial board of The Veterinary Record and is Editor in Chief of In Practice. Stephen is a non-Executive Director of the British Veterinary Association
Stephen has published over 85 papers in the peer-reviewed literature and has given over 150 presentations at regional, national and international meetings. He has written over 30 continuing education articles and a dozen book chapters. He is the editor of the BSAVA Manual of Surgical Principles. Stephen is a regular lecturer at national and international meetings. He has received clinical research prizes from the European College of Veterinary Surgeons, British Small Animal Veterinary Association and the Royal Veterinary College.
Stephen's clinical interests include all aspects of clinical oncology, reconstructive surgery, and minimally invasive surgery, particularly thoracoscopy. His clinical research interests involve tumour cell biology, biomarkers for cancer diagnosis and therapy and novel therapeutic agents for treating cancer in small animals, and this research has been supported by BSAVA Petsavers, the PetPlan Charitable Trust and RCVS Trust.
Stephen and his family own five Domestic shorthair cats and a Springer spaniel. When not at work, Stephen is a keen triathlete, and has participated in events from sprint distance to full ironman distance. He has also represented Team GB at the International Triathlon Union World Championships in Aquathlon and Long Distance Triathlon.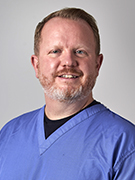 Chris Shales
MA VetMB CertSAS DipECVS FRCVS
Clinical Director
European Specialist in Small Animal Surgery
RCVS Recognised Specialist in Small Animal Surgery
Chris graduated from Cambridge Veterinary School in 2000 having gained a degree in Zoology in addition to qualifying as a Veterinary Surgeon. Chris then spent two hugely enjoyable years working in general practice in Suffolk before returning to Cambridge as a Resident in Small Animal Surgery.
Following completion of his residency in 2005, Chris worked as a Clinical Surgeon in the Soft Tissue Department of Cambridge University before moving to take up a post as Clinical Fellow in the Small Animal Surgery Department at Bristol University. He has been at Willows since 2009 and as such has been at the core of the team's commitment to the pursuit of clinical excellence via a multi-disciplinary approach to Soft Tissue Surgery.
During his time at Willows Chris has been the Director of the Surgical Residency Training Programme and the Head of the Soft Tissue Surgery service. More recently Chris has become the Clinical Director at Willows and looks forward to sharing his passion for our core values though this role.
Chris is a Diplomate of the European College of Veterinary Surgeons and an RCVS Specialist in Small Animal Surgery. Chris has served as a member of the written examination sub-committee for the European College, the scientific programme committee for the BSAVA Congress. as an examiner for the RCVS Certificate in Small Animal Surgery and has been a committee member of the Association of Veterinary Soft Tissue Surgeons. Chris is currently on the programme committee for the annual scientific meeting of the European College of Veterinary Surgeons (ECVS).
Chris has published numerous scientific peer reviewed papers, written several textbook chapters and is an experienced lecturer to Vets at both local, national and international level.
Chris is particularly interested in upper airway surgery, brachycephalic obstructive airway syndrome (BOAS), portosystemic shunts, and surgical oncology. He is also a member of the interventional radiography group at Willows.
Chris is a keen rugby fan, landscape gardener, walker and mountain biker. Recent restrictions on his free time have led him to dust off his running shoes and explore the world of HIIT workouts – with mixed success! Chris and his family share their house with Hattie, a fantastic Labrador who was successfully treated at Willows for a liver shunt!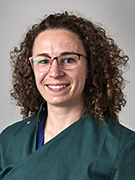 Erika Villedieu
EBVS® European Specialist in Small Animal Surgery
Internship Programme Director
Erika graduated from the University of Toulouse in France in 2014. After moving to the UK, she worked in general practice for two years and completed a small animal rotating Internship at the Royal Veterinary College and a surgical Internship at a Specialist referral hospital in Surrey, focusing on soft tissue surgery and surgical oncology.
Erika joined Willows as a Resident in Small Animal Surgery in July 2018, completed her residency in July 2021 and became a European Specialist in Small Animal Surgery in February 2022.  She is currently involved in research projects on pharyngeal mucoceles and sialadenosis, and had interests in minimally invasive procedures and wound management.
In her spare time, she enjoys cycling, running, and walking.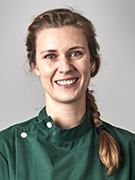 Kine Elmenhorst
BVMedSci BVM BVS PGCert Veterinary Medicine and Surgery MRCVS
Clinican in Small Animal Surgery
Kine graduated from the University of Nottingham Veterinary School in 2015 with a strong interest in small animal surgery. Since graduating, Kine has spent a few years in General Practice and completed both a rotating internship at Dick White Referrals and a surgical internship at Fitzpatrick Referrals before joining Willows surgical team in July '20 as a Resident in Small Animal Surgery.
Outside of work Kine loves travelling, and when that is not possible, she take great pleasure in spending time outdoors on long walks.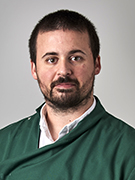 Luis Moreira
ECVS Resident in Small Animal Surgery
Luis graduated from the University of Universidade de Trás-os-Montes e Alto Douro in Portugal in 2011. He then spent seven years working in Portugal and Ireland as a general practitioner. In 2019, Luis first joined the Willows team as a rotating internship, followed by a surgical internship at Highcroft Veterinary Referrals.
In 2020, Luis obtained the general practitioner certificate in small animal surgery and he is currently working towards a European Diploma in Veterinary Surgery. He is particularly interested in soft tissue and orthopaedic surgery. Luis is currently working on various research projects, including cruciate ligament surgery, brachycephalic obstructive airway syndrome and antebrachial deformities
Luis has two cats, Misha and Yoda, and enjoys swimming, trail walking and outdoor exercise.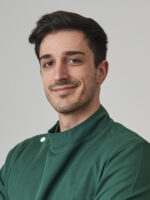 Dr Eugenio Gaudio
ECVS Resident in Small Animal Surgery
Eugenio graduated in Veterinary Medicine from the University of Padova, Italy, in 2016. Soon after graduation, he underwent a three-year clinically oriented PhD program in Veterinary Science focusing on postoperative pain assessment, working alongside the University of Padova's anaesthesia and surgical team.
Being very keen on clinical research and a great wildlife enthusiast, Eugenio spent seven months at the University of Stellenbosch, RSA, and three months at Dubai Falcon Hospital, UAE, carrying out clinical work and research projects on wildlife chemical immobilisation.
In 2020, Eugenio moved to Doha, Qatar, where he undertook a role in small animal practice. He then moved to the UK in 2021, where he worked as a general practitioner for a few months before joining Willows Referrals in 2022 as a rotating intern. In 2023, Eugenio worked as a surgical intern at Fitzpatrick Referrals and commenced his ECVS Surgical Residency training.
As a result of his endeavours, Eugenio has published several papers in internationally recognised scientific journals and presented his research at various conferences.
In his spare time Eugenio enjoys playing the violin, doing physical activity, and spending time in the outdoors.
To assist owners in understanding more about Soft Tissue Surgery we have put together a range of information sheets to talk you through the some of the more common soft tissue conditions seen and treated by our Specialists.