We are blown away to have received national praise from non-other than the celebrity broadcaster and renowned dog lover Paul O'Grady.
Paul O'Grady received a very kind letter of thanks in praise of Willows from Diane Chavasse following the sad loss of her beloved chocolate Labrador Rolo. In the letter Diane explained that Rolo sadly passed away whilst his owners were on holiday in Mexico.
"Although we live in Bideford, North Devon, Rolo had been staying with my daughter Anna in Solihull while we were away. There was no change in his behaviour, he was slowing down a bit but he still loved a gentle walk each day and continued to treat everyone he saw as a potential new best friend!
He was still his usual happy self but Anna got up one day and found he had died peacefully in his sleep, just one week before his 14th birthday".
"When Anna rang me to tell me what had happened, I didn't really know what to do as my vet is in Devon. Willows was recommended to us by a friend and I spoke to receptionist Kizzy Barber there, who was incredibly kind and sensitive. My daughter doesn't drive, and so Kizzy arranged for Willows facilities manager Dave Hindley to go and collect Rolo, so he could be kept at the practice until my return".
"On return from Mexico we arrived at Willows to say goodbye, where we were looked after by Charlie Cooper who was also incredibly sensitive to our situation. My family and I really appreciated the use of the family room at Willows and were overwhelmed with how we and Rolo were treated with such respect and dignity. Seeing him brought in, bathed and laying peacefully on a rug, covered with a blanket, was something I'll never forget. He looked like he was just asleep. His fur was clean and soft, just how we remember him".
"I could not believe my ears when we were told there was no charge for all this care, compassion and consideration, other than for the urn and cremation. I am so full of gratitude for everything the practice did for us and Rolo. The service Willows provided was above and beyond."
After hearing about the very sad loss of Rolo The BBC Radio 2 presenter has awarded Willows with a 'Certificate of Thanks' for going 'above and beyond' for a Diane at a time of grief.
On behalf of Willows, thank you Diane. To write in to the Paul O'Grady show was so thoughtful of you. The 'Certificate of Thanks' is a lovely touch and we will keep it in a prominent place to remind us all how important it is to always give the best of care to our pets and clients – and how much it is appreciated and valued.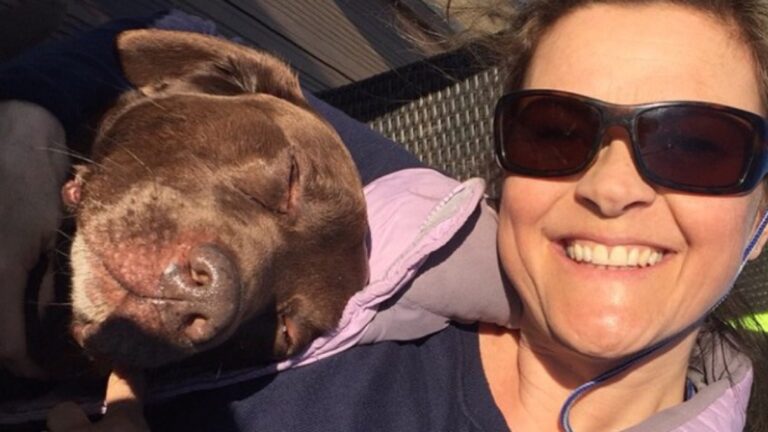 Diane Chavasse and her beloved chocolate Labrador Rolo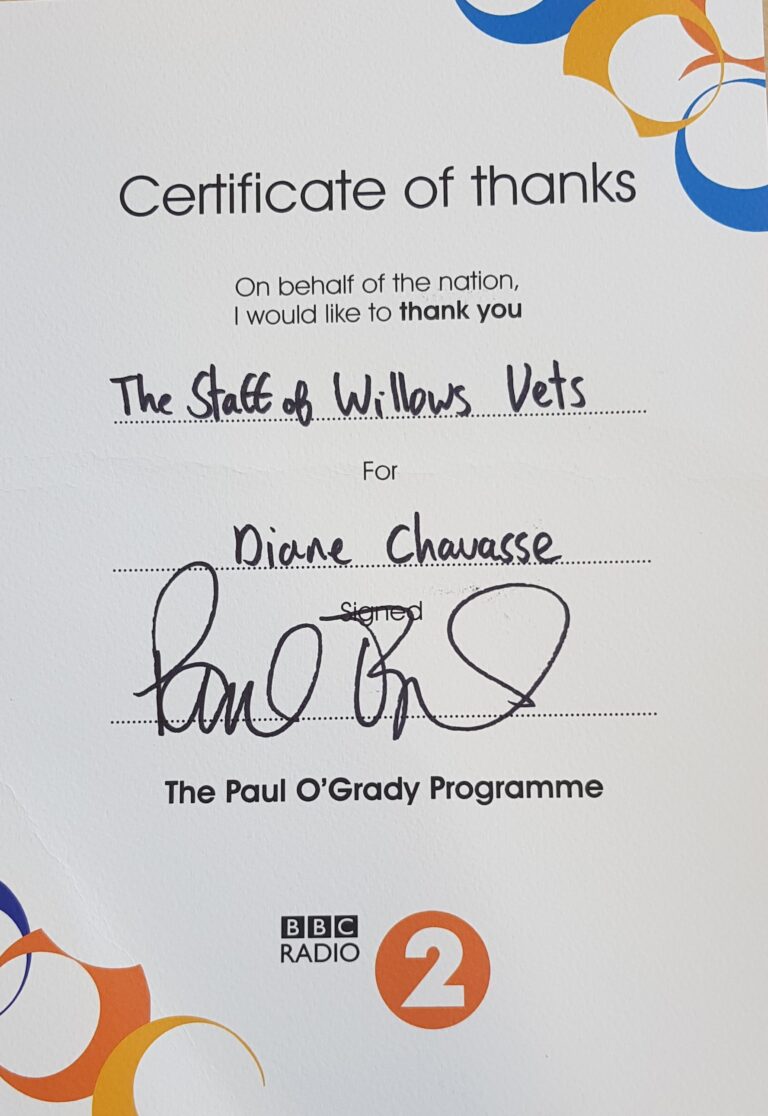 The BBC Radio 2 'Certificate of Thanks' awarded to Willows Veterinary Centre and Referral Service, in Solihull, by TV and Radio star Paul O'Grady