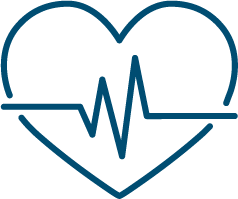 Why Should I Bring my Pet to Willows for an Arthrodesis Procedure?
Willows is one of Europe's leading small animal Orthopaedic referral centres treating over 1000 new patients a year. Our state-of-the-art hospital is led by internationally renowned Certified Specialists committed to providing the highest standards of care. Our team of Orthopaedic Specialists have considerable collective experience of performing arthrodesis.
Our Orthopaedic Surgeons are supported by our multi-disciplinary team of Specialists across a number of disciplines including; Anaesthesia, Diagnostic Imaging and Emergency and Critical Care. Willows has a large dedicated team of Nurses and clinical support staff available 24 hours a day, every day of the year to provide the best possible care for your pet.

Arthrodesis is the surgical fusion of a joint so that there is no longer movement in this part of the limb. Arthrodesis is a 'salvage' procedure' generally only performed when there are no other options to save the joint and function of the leg. The wrist (carpus), shoulder and ankle (hock) are the most common joints that undergo arthrodesis. The main joint that cannot be fused is the hip joint, this is generally not a problem as the hip joint can be replaced with an artificial one. Elbow and knee replacements are also possible alternatives to arthrodesis of these joints.

What are the Most common Signs that my Pet may Need an Arthrodesis Procedure?
The fusion of a joint may be required for a number of reasons including:
Osteoarthritis, chronic pain that cannot be managed medically
Joint instability, that cannot be treated by other means
Fractures, involving the joint surface that cannot be repaired
Infection, involving the joint that fails to respond to antibiotics
Tumours in or around joints
Muscle/tendon rupture that cannot be managed directly.
Pic 1: Arthrodesis of a shoulder joint in a terrier breed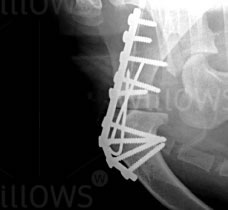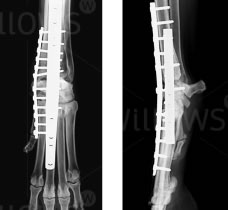 How will it be Determined that an Arthrodesis is Required?
A thorough examination of and further investigations will be carried out including X-rays or CT scans allowing the Specialist Vet to make appropriate management decisions for the patient.
Pic 2: Arthrodesis of a carpus (wrist) in a Border Collie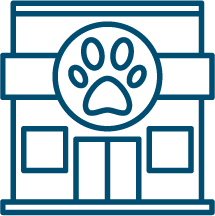 What does the Procedure Involve?
There are a number of important steps when fusing a joint:
The cartilage surface of the joint must be removed to allow bone to form and the joint to fuse
A bone graft should be placed into the spaces between the bones to promote bone healing
The bones forming the joint to be arthrodesed must be firmly stabilised using implants, most commonly a plate(s) secured to the bone with screws placed under the skin.
The majority of arthrodesis operations are uneventful and are not associated with complications, however, these are major procedures and as such complications are possible, these can include:
Loosening or breakage of implants may occur if the joint fails to fuse. Implant failure can result in joint instability and necessitate further surgery
Wound problems, i.e. breakdown and infection are mostly associated with arthrodesis of the wrist and ankle joints
Fracture of bones adjacent to the fused joint may occur due to the abnormal forces that result following arthrodesis surgery.

What can I Expect if my Pet has an Arthrodesis?
Limb function achieved after arthrodesis surgery is mainly dependent on which joint is fused. It is generally good following wrist and ankle arthrodesis, and fair following shoulder arthrodesis. Fusion of the elbow or knee joint significantly compromises limb function. Dogs and cats generally have to swing the limb outwardly (circumduct) when walking in order to prevent the toes dragging on the ground.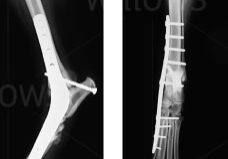 Pic 3: Complete arthrodesis of a hock (ankle) in a Labrador Retriever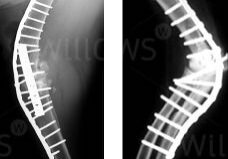 Pic 4: Above left: Arthrodesis of a stifle (knee) in a Dogue de Bordeaux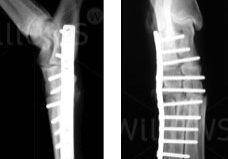 Pic 5: Above right: Arthrodesis of an elbow joint in a Springer Spaniel
To save this page as a PDF, click the button and make sure "Save as PDF" is selected.
To assist owners in understanding more about Orthopaedics we have put together a range of information sheets to talk you through the some of the more common orthopaedic conditions seen and treated by our Specialists.