Our world-renowned cardiology team at Willows is leading the veterinary industry by pioneering a groundbreaking procedure to tackle heart disease in dogs.
Willows in the West Midlands is currently the only centre in the UK, and one of just a very few in the world, offering the innovative transcatheter edge-to-edge mitral valve repair (TEER).  
A minimally invasive heart procedure, TEER has been specifically developed for the treatment of Myxomatous Mitral Valve Disease (MMVD), which is the most common heart disease seen in dogs.
RCVS and European Specialist in Small Animal Cardiology Simon Swift heads our industry-leading Cardiology team, which also includes RCVS and European Specialists Fabio Sarcinella and Siddharth Sudunagunta.
Simon explained: "MMVD occurs when the mitral valve, which divides the left side of the heart into top and bottom chambers (atrium and ventricle respectively), starts leaking and creates a heart murmur.
"The leak can gradually become larger and, in the long term, often leads to dilation of the left-sided chambers.
"In time, the pressure in the left atrium starts rising and ultimately leads to development of fluid in the lungs, known as congestive heart failure or pulmonary oedema.
"Transcatheter edge-to-edge mitral valve repair (TEER) is already considered an alternative to surgical repair in human patients and there have been some very promising early clinical results in dogs.
"We are incredibly excited to be pioneering this TEER procedure at Willows in the treatment of dogs affected by advanced mitral valve disease.
"The procedure is performed under general anaesthesia through a small incision in the chest wall.
"Access within the beating heart is achieved by a needle puncture at the apex of the heart which is highlighted by continuous X-ray images and an ultrasound of the heart via a probe placed in the oesophagus.
"This allows correct positioning of a V-clamp across the mitral valve to reduce the amount of leakage.
"It's a procedure that delivers meaningful results and an improved quality of life and, because it's a minimally invasive process, patients are typically discharged from hospital within two days."
The first TEER procedure carried out here at Willows was to treat Chester, a 10-year-old Havanese.
Fabio Sarcinella was part of our truly multi-disciplinary treatment of Chester and said: "In order to be accredited to perform this procedure at Willows, our Cardiology, Soft Tissue and Anaesthesia teams underwent a lengthy training process.
"Our Cardiologists also visited Colorado State University and Hongyu medical headquarters in Shanghai for further training and to assist with procedures.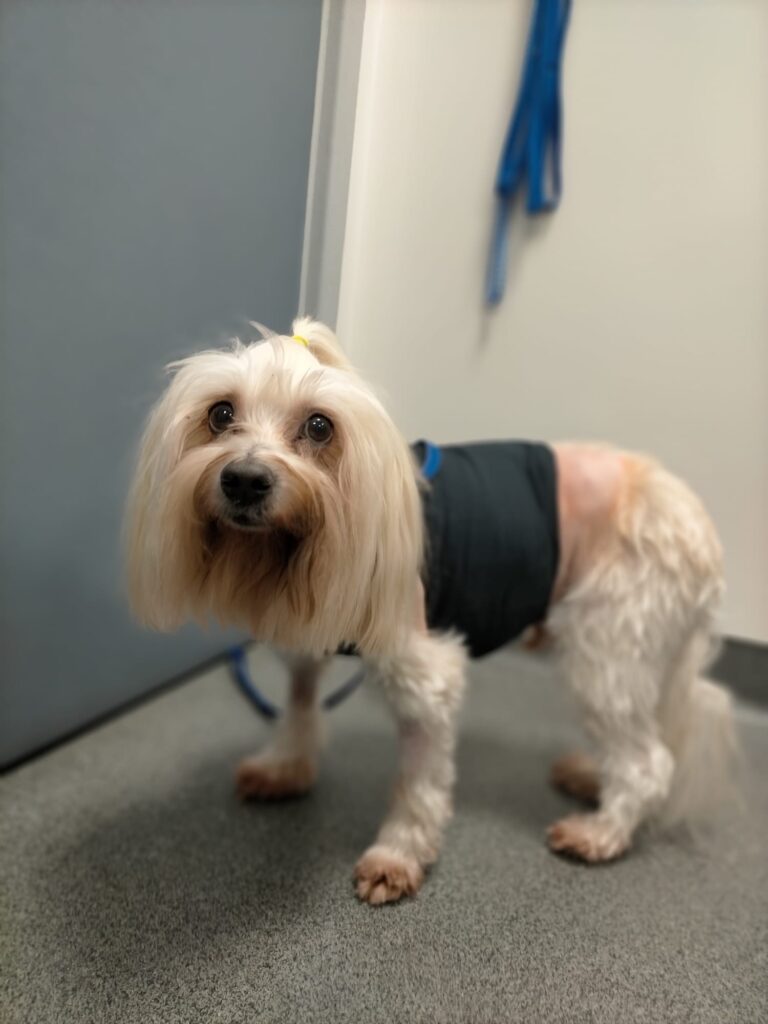 "In the case of Chester, our first TEER procedure carried out here at Willows, a multi-disciplinary meeting involving Cardiologists, Anaesthetists and Soft Tissue Surgeons was held a few days before the procedure to ensure everyone was confident with the different steps of this challenging intervention and that all necessary equipment was available on the day.
"On the day of the procedure, Chester was supported by the presence in theatre of two Anaesthetists, two Soft Tissue Surgeons, three Cardiologists and three Cardiology nurses.
"During the procedure, state-of-the-art transoesophageal and fluoroscopy imaging guidance was used for the successful outcome of this surgery. "While recovering in our ICU, Chester was under the care of one of our emergency and critical care specialists and we're delighted to say has made an excellent recovery."