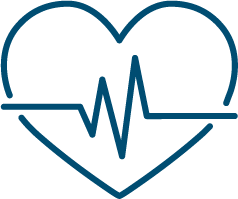 Physiotherapy: Stronger for Longer
Willows is one of Europe's leading small animal referral centres. Our state-of-the-art Hospital is led by internationally renowned Specialists, committed to providing the highest standards of veterinary care.
Our team of three Veterinary Physiotherapists work closely with our multi-disciplinary team of Specialists including; Orthopaedics, Neurology and Anaesthesia to provide gold standard care for patients and clients alike.

What is Veterinary Physiotherapy?
Pets are an integral part of the family, and when their quality of life or ability to move around becomes compromised we know how important it is to get them back on their feet again.
A pet's mobility may be affected by a range of issues. Physiotherapy is used to treat a range of disease, injury, deformity and also to help improve recovery from surgery through the use of a range of methods such as massage, electrotherapies, heat treatment and exercise.
Physiotherapy aims to stimulate the body's natural healing process, reduce pain and restore mobility and function. Physiotherapy can also be utilised for performance enhancement in athletic and working animals. If your pet has had surgery, an injury or disease, physiotherapy can form an integral part of the rehabilitation process.

What are the Physiotherapy Treatments Available?
Class IV laser therapy
Extracorporeal Shockwave Therapy (ESWT)
Acupuncture
Core strengthening and conditioning – wobble cushions, gym balls etc.
Soft tissue techniques – trigger point therapy, myofascial release
Exercise based rehabilitation
Hydrotherapy is also available - find out more below:

What can I Expect if my Pet undergoes Physiotherapy?
Your pet may first meet our Physiotherapy team as an inpatient recovering from surgery, or as an outpatient. If your pet is recovering from surgery, a tailor made rehabilitation plan will be developed which will include specific advice about how to manage your pet once they have returned home. Many of our patients return to see our physiotherapy team to further their rehabilitation and ensure the best possible outcome and increase in mobility.
As an outpatient, a detailed history of your pet's condition will be taken. The way your pet stands and moves will be closely assessed and evaluated by our Physiotherapists and a tailor made treatment plan will be devised that addresses any of your pet's issues. This could include manual therapies such as massage, or electrotherapies such as class IV therapy. A personalised exercise plan will then be created for you to work on at home with your pet.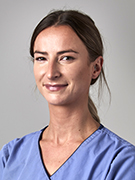 Emma Box
BSc (Hons) PgDip VetPhys MNAVP MAHPR
Head of Physiotherapy and Rehabilitation
Emma graduated from the University of Nottingham in 2016. She then went on to qualify as a Veterinary Physiotherapist from Harper Adams in 2018. She spent two years working in small animal practice in the Midlands, before joining Willows in 2019. She is an active member of The National Association of Veterinary Physiotherapists (NAVP). Emma is currently undertaking specialist rehabiliation training at the University of Tennessee, to achieve Canine Rehabiliation Practitioner Certification.
Emma has a clinical interest in neurology, chronic pain management and the enablers and barriers to veterinary physiotherapy referral. She feels privileged to do a job she loves and finds supporting pets and their owners down the long and winding road of rehabilitation extremely rewarding.
Outside of work, Emma has two mischievous rescue cats called Rocket and Ringo. She is a keen runner and enjoys outdoor adventures with her family.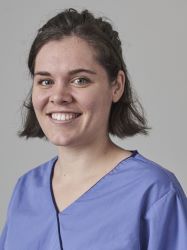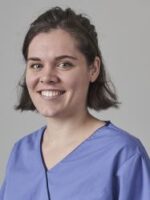 Holly Finelli
BSc (Hons) MNAVP L4Cert Canine Hydrotherapy
Veterinary Physiotherapist
Holly graduated from Coventry University in 2019 with a first-class degree in Veterinary Physiotherapy. Holly also holds an OCLNR Level 4 Certificate in Canine Hydrotherapy for Veterinary Physiotherapists.
Holly has previously worked in a small animal practice, treating a multitude of patients with physiotherapy, laser therapy and hydrotherapy. Holly has a particular interest in post-operative rehabilitation as well as rehabilitation for muscular injuries. Holly enjoys providing support for owners as well as patients throughout the recovery and treatment process.
In her spare time, Holly enjoys cooking and baking but most of all she loves playing netball.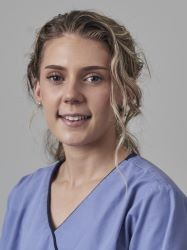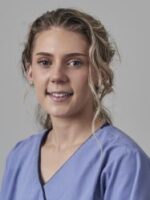 Holly Hitchins
Veterinary Physiotherapist
Holly graduated from Coventry University in 2022 and, upon graduating, worked as a self-employed Veterinary Physiotherapist before joining the team at Willows in 2023.
Holly is a member of the Institute of Registered Veterinary and Animal Physiotherapists (IRVAP), has a particular clinical interest in post-operative physiotherapy and hydrotherapy, and really enjoys forming close relationships with both her clients and patients. She feels passionately about collaboration within different veterinary disciplines, and promoting the benefits of veterinary physiotherapy.
In her own time, Holly enjoys training and walking her two dogs, Barney the English Bulldog and Velma the Weimeraner. Holly also enjoys training in the gym as she is a competitive powerlifter!